Welcome To Appleberry Cove Farm
HOME OF APPLEBERRY COVE AND LUNASHOWER DAIRY GOATS
Proverbs 27:27 "And thou shall have goats milk enough for thy food, for the food of thy household, and for the maintenance of thy maidens."
Appleberry Cove Farm welcomes you to our website featuring quality dairy goats and other animals. Our small dairy herd is composed of ADGA registered LaManchas, Recorded Grades, and Nigerians.They are guarded by our trained Great Pyrenees and cross bred livestock guardian dogs and thrive on our mountain spring water. At four thousand feet elevation we pride ourselves on the robust health of our animals. We use certified grains and local hay of the highest quality. Our program of preventive management and regular veterinary care augments our careful and selective breeding program producing high quality well rounded animals. Please "browse" our website- whether you are here purely for information on Dairy Goats, looking for animals to purchase, or for breeding possibilities to our bucks- you are welcome, and please stop by again for updates.
Breeding season 2016/2017 in the works.
We cut our numbers down quite a bit recently and want to thank everyone who purchased animals from us! We hope they bring you as much joy as they did us.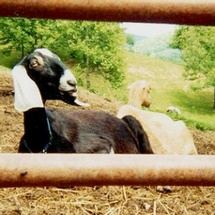 Lazy time for the ladies.
Appleberry Cove farm animals include geese, chickens, ducks, goats, and peacocks. Pictured above is Sugar the Nubian and Nutmeg the LaMancha relaxing in the sun.
Pictured below: another beautiful Appleberry Cove sunset.
Interested in our goats or our farm?
If you have specific questions about our farm or the animals we may be offering for sale please contact us and we will be glad to return your message. We do not ship animals- they are available for pick-up only or we may be able to make special arrangements to meet at an upcoming Fair or Event in the general proximity of Western North Carolina.
Please note that all pictures and/or materials listed on this website are for the private use by the site owner only and may not be used without prior written permission from the owner.